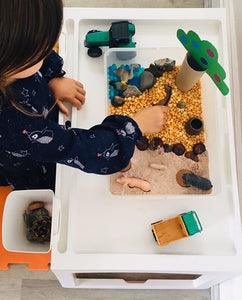 Pup_and_play guest blog: Open ended learning
Parenting in a pandemic, it's a funny old thing. Life as we know it has ground to a halt yet social media sites still rush ahead in a frenzy of helpful 'How To's' that can easily get us anxiety prone, guilt inclined caregivers in a spin. As a parent and educator I thought I'd got this. A chance to really put my passion into practice. But all I've really got is a huge sense of self-doubt and a wish-list of play items longer than the lockdown. 
You see, I somewhat naively started an Instagram play account. A bit late to the game yes, but my heart was in the right place. I wanted to share some ideas for anyone who might need a little bit of inspiration and thought that some open ended invitations to play could be 'just the ticket' to coin a phrase. I got some follows - hurrah! I followed back ... and then began the questions. Am I doing this right? Should mine look more like that? Have I introduced this with enough input? Did I just give too much guidance? Am I overthinking this...? 
As an educator of 15 years, even I've had to really step back and re-evaluate what open-ended play means to me. And, more importantly; as a parent, I've had to realign what open-ended play looks like to my daughter. And what have I learnt? Well, I'm still learning. 
I've reaffirmed my belief that providing open ended opportunities for play is fundamental for building life skills and fostering a natural independence in children but as for how to get there... that's where I came a little unstuck. 
Despite being an educator, the reality of preparing open-ended play is fairly new to me. It's something I've always believed in but, due to timetable constraints in an international curriculum, there was little opportunity to put it into practice in the setting I was working in. 
Given the current restrictions I decided to give it a shot and jumped headfirst into lockdown learning; timetabled days, lists of activities and craft cupboards that even Marie Kondo would be proud of. I was burnt out within days and left wondering what had gone wrong? How could I not have this down? I can plan and organise a termly timetable for an entire school but I can't manage a few days with a four year old? 
Taking time to research more into the fundamentals of open-ended learning and having an opportunity to actually try it out more with my daughter is certainly an eye opening journey. There seems to be a fine line between setting up invitations and truly making them open-ended and I find it can be hard not to want to direct, even now. 
So what makes a successful open-ended invitation to play? Just that. An invitation. It's not the resource that you use but how you use it. It's not the activity that you plan but how you present it. It's not even the learning you hope will happen, it's the play that evolves. In essence, it's letting go of what you want and opening your eyes to the magic that can happen when your children get what they need. 
Conversely, that sometimes means you'll also have to let go of an entire setup because, well, just like all of us, sometimes a four year old just isn't feeling it. So, do you want to know the secret? And I think it's this that's got me through. Not feeling it is fine. To truly be open-ended in your invitations you need to follow the child. @play_at_home_mummy had a lovely example of this in her stories last week tagged as #FridayFails. She constructed a giant object roll out of recycled materials that got less interest than the time it took to make BUT, what did generate interest was posting those objects into a tub so - you guessed it, she grabbed a tub! 
And so, in following the interests of the child and opening up the activity to include those interests, new play was born and with it, new learning. And isn't that the goal of all this? To help our children in this difficult time; to give them a sense of fun and excitement in what is otherwise an uncertain period? I believe so and as such, I will continue our journey into openness and all the learning that comes with it. 
Léonie - @pup_and_play
---