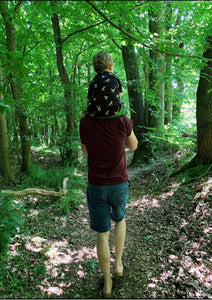 Guest blog: Adventures with our toddler
The Stevenson Life blog follows the lives of Mark, Ashleigh and their toddler Grayson. In this guest blog Mark shares his experiences of exploring the great outdoors with his son Grayson.
Now the weathers taken a turn for the better, we've been trying to get out and about (as much as we've been allowed to!). We're quite lucky where we live, we have the beach only a 5 minute walk from our front door, the Norfolk Broads 15 minutes away, and mile upon mile of rolling countryside all around us - the only thing we're missing is some Mountains and Waterfalls, but you can't have it all!
We've recently started to explore the Norfolk Broads with Grayson. Previously, he adored little walks to the local woods to squirrel spot, or collect more pine cones than he can physically manage to hold (yes, we end up with pine cones and leaves in every pocket so he can bring them all home), or leaves for him to explore and play with back at home. The Broads offer a whole new level of excitement for G - whilst the woodland is an amazing place to explore and learn in, the Broads is just another level for wildlife and educational opportunities.
If you've never visited the Norfolk Broads, I encourage you to try and get to them. From pond dipping to nature trails, bird spotting to feeding the ducks, they have it all. 


Grayson loves looking for the ducks - we teach him to walk slowly and quietly so he doesn't scare them. The hard work is soon undone when he does eventually see one, and shouts "Hello Ducky" or "BIRD!!" at it, but they're quite used to it now, and once they see a bag of oats in his hands, they stick around! 
It's not just ducks and birds, though. We've taught him about stinging nettles, and how he shouldn't touch them or other plants if he isn't sure about them - so far so good on that front! We're going along the lines of "if it looks like it'll hurt, it probably will!" He loves looking at the wild flowers, learning the colours and names of them, and the dragonflies and bees hovering around. We're trying to teach him not to be scared of them, but it's quite difficult when we both flap our arms at the sight of a wasp! 
Whilst Grayson is a bit young for a nature journal, or to do tree rubbings or pond dipping, it's great to see him learning about nature just by looking and listening. Once he's a bit older, we'll do rubbings of the tree bark (something I remember doing on school trips, back in the day), and he can start to create a book so he can remember what he's seen. It'll be great for him to do this on each visit, and throughout the year he can see how things change through the seasons. 
There really is nothing better than getting outdoors to learn new things - every visit to a place (even the same place every week!) is different, the seasons change, the animals change. It's a whole world of opportunity to learn, and we absolutely love watching Grayson explore his surroundings and take in the natural world around him.
---