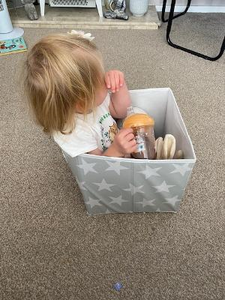 Guest blog: Boxes, cushions, dens and shopping bags - containing and enveloping schemes
By Charlotte Noble - @adayinthelifeofababy
Introduction
Firstly let me introduce myself, I'm Charlotte, I'm an early years practitioner with 15 years experience, for the majority of that time I have worked in nurseries with Schemas. My current setting has just became a Scheme accredited setting and over the last two years I have had to learn to change my language when it comes to Schemes and Schemas. A Schema is the children's interests that leads them to their process of learning which is called a Scheme.
Patterns of play
My little girl has been displaying a containing scheme since around 14 months, she started by sitting in her Christmas eve box, looking at her books. She absolutely loves sitting in baskets and boxes, still now at 23 months. She now has the imagination to pretend that it's a car or a plane. She shows understanding that the box or basket needs to be empty for her to fit in, which is great for her pre-requisite math skills, shape, space and measure.
Often schemes can coincide with each other, I've found with Miss F, that she also displays an enveloping scheme, I first spotted this after doing painting a few times, it would start with painting her hands, which I assumed was because we had done so for Christmas cards, but it soon progressed onto painting her whole arm or if she had just a nappy on her tummy and legs would be painted too. She started covering herself with cushions, or pulling the throw out on the sofa to get underneath
When
I noticed this, I set up Dens in the lounge and she was so happy, taking her books inside, watching tv, even wanting to eat in there. I purchased her a tent but she still asks for a "house" made on the sofa, with blankets and cushions. She asks us to wrap our legs around her to make a house, she will close our feet and say "door" "open" "out", its been an interesting development in her language as she learns, open, shut, inside, outside. Now her main interest is shops, when one of us comes back from the weekly food shop, she likes to get the first empty bag and fill it with random bits, normally the multipack of crisps and some grapes, she will give us both a kiss and say bye and off she trots around the house. I purchased her a little trolley as an early birthday present and she loves filling it with the most random things. It currently is filled with slippers, a mirror, a cupcake case, two small cats and about 6 dried chickpeas.
---